(1) Gegege no Kitaro and Jindaiji Temple Course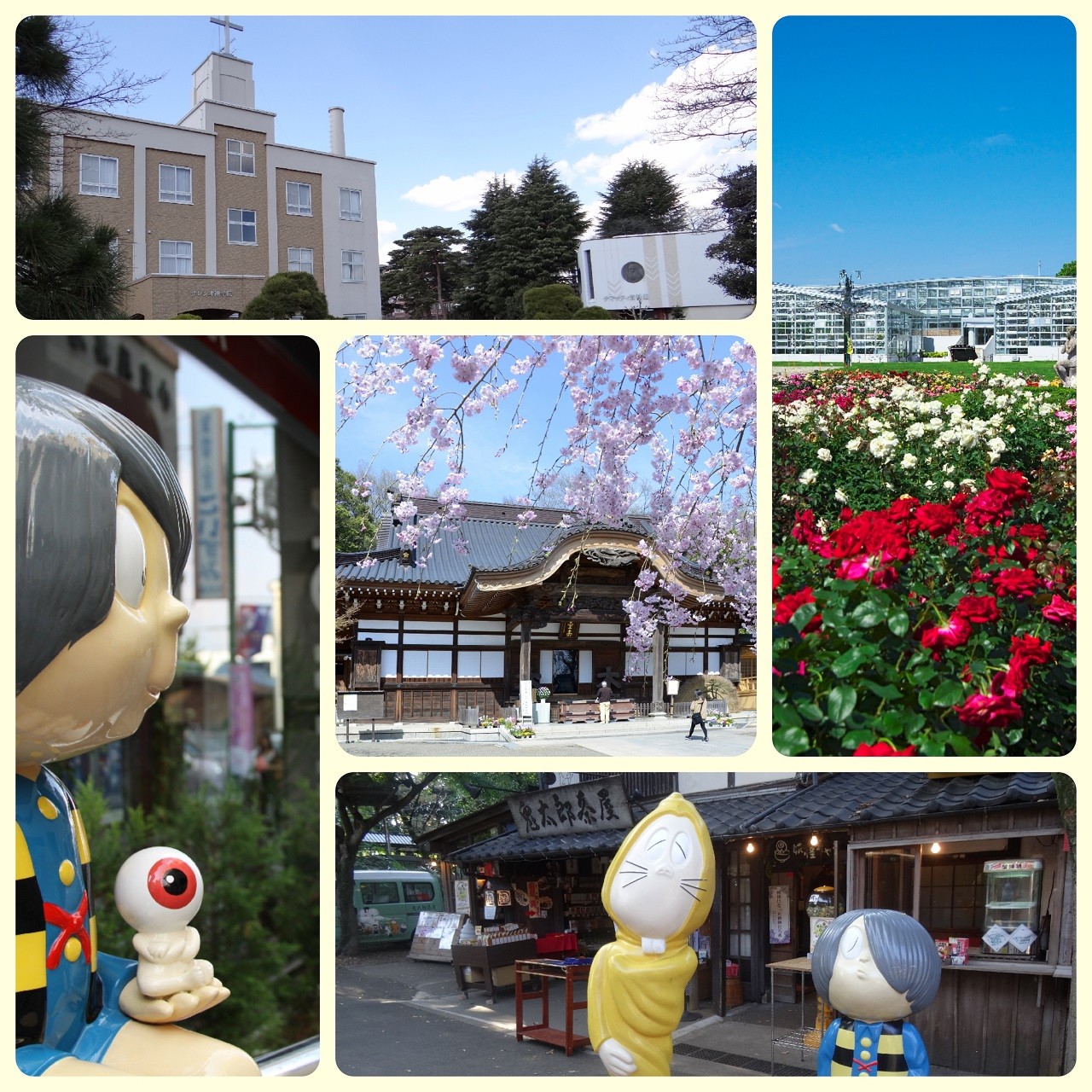 Around Jindaiji Temple spreads the beautiful scenery of a remnant of leafy Musashino.
There are various shops-tea houses for visitors and restaurants serving a local specialty "Jindaiji Soba (Japanese buckwheat noodle)" that dates back to the Edo era (1603-1868)-lined up on the path leading to the gate of the temple.
Chofu city is "the birthplace of Mizuki manga (cartoon)" and a city where Shigeru Mizuki, a cartoonist whose representative work is "GeGeGe no Kitarō," lived for more than 50 years.
There are many sightseeing sports relating to his work, such as monuments standing on Tenjin-dori Street.
(C) MIZUKI Production
【Web】
Gegege no Kitaro and Jindaiji Course
(2) "Chofu,the movie city" and Tama River Course"
Since the establishment of a studio in the early Showa era (1926–1989), Chofu was developed as a "town of cinema." It was once called "Oriental Hollywood," and there remain many facilities and monuments related to movies.
This walking course provides a beautiful landscape that has also been used for shooting films.
【Web】
"City of Movie Chofu" and the Tamagawa Course
(3) Sengawa Art and Culture Course
Chofu city is also known as a city of arts and culture.
Along the walking course starting from Tsutsuji-gaoka Station to Senkawa Station, there are Jourakuin Temple, for which Tetsumaro Honda-a composer of "Omoide-no-Album" that is a standard number for graduation ceremonies at nursery schools and kindergartens in Japan-served as a chief priest, and a private residence of Saneatsu Mushanokoji, a famous literary person who actively created his works from the Meiji (1868-1912) to Showa eras.
【Web】
Sengawa Art and Culture Course
(4) Isami Kondo - the head of the Shinsengumi and greenery Course
Chofu city is the birthplace of Isami Kondo, a renowned head of the "Shinsengumi" that played an active role at the end of the Edo period (1603-1868).
This walking course will bring back memories of "Isami Kondo" as his birthplace and gives a feeling of relaxation with greenery in Musashinomori Park vastly spreading north and south around Chofu Airport.
【Web】
Isami Kondo and green space course
(5) The course of sporting veune to Chofu station
Chofu city has competition venues for the 2020 Tokyo Olympic and Paralympic Games.
This sightseeing course is recommended as a walking tour from competition venues to Chofu Station.
(C) MIZUKI Production
【Web】
Course from the competition venue to Chofu Station
(6) Chofu bicycle Course
Why do not you run through the urban forest exhilaratingly?
Would you like to ride a bicycle through an urban forest? If you wish to walk around sightseeing spots in Chofu, it is a bit distant tour.
But if you ride a bicycle, it is an easy tour that allows you to feel the nature of Chofu.
In the city, there are rental stations where you can pick up and return a bicycle. It is possible for anyone to use a bicycle readily.
【Web】
Chofu sightseeing course with share cycle
(7) "GeGeGe no Kitaro" Anime Spots Course
In the animation "GeGeGe no Kitarō" (The 6th period), many scenes appear where the animation sets in various spots of Chofu city.
In this course, you can walk around the city by comparing the actual spots with scenes that appeared in the animation.
Chofu City Sightseeing Association has issued up to the Vol.4 of the pilgrimage map 'Chofu-city vs."GeGeGe no Kitarō" (The 6th period)' so that people can feel closer to "Chofu-the city of the birthplace of cartoons created by Mizuki" through the animation and enjoy the spots that appeared in it.
(C) MIZUKI Production
【Web】
Anime "Gegege no Kitaro" (6th season)
(8) Discovering Japanese culture course
In Chofu city, it is possible to experience valuable Japanese culture and events while thoroughly enjoying sightseeing.
Let's experience the Japanese history and culture in Chofu, which have vividly been passed down since ancient times and take deep roots in everyday life.
【Web】
Experience course for foreign tourists visiting Japan
(9) Chofu gourmet discovery featuring Mega-Binge walk rally and Extra spicy food rally
Many people think of Chofu City as "Jindaiji Soba", but in fact, now it is a gourmet with a new genre called "Hot! Spicy" which can be enjoyed from a hearty spicy to a super hot spicy enthusiast. It is gaining popularity as a sacred place.
Let's enjoy gourmet that you can not find elsewhere while going around various sightseeing spots in Chofu.
【Web】
https://www.guidoor.jp/media/chofu-souvenir-en
(10) Chofu souvenir and gifts
Chofu city is blessed with abundant greenery and rich history, located near central Tokyo.
After visiting attractive sightseeing sports in Chofu, don't miss souvenirs.
Here are introduced "Recommended souvenirs in Chofu."
【Web】
Chofu Souvenir Special
Return to Chofu City