Jindaiji Soba Special Feature
Jindaiji Soba has a history of over four hundred years.
A specialty of Chofu, it has been widely acclaimed as excellent soba since the Edo period (1603-1868).
These buckwheat noodles are flavorful with a satisfying texture and smooth to the throat.
Over twenty soba shops still stand around Jindaiji Temple today, and each brings its soba to perfection with masterful skills.
In addition to Jindaiji Soba noodles, the shops also offer many original dishes and sweets made using buckwheat flour. These include soba porridge, soba manju, and soba yokan.
The area around Jindaiji is popular in Japan as one of the best soba-eating places, since you can enjoy quality soba amid the beautiful, natural surroundings of Musashino.
Jindaiji Soba and the History of Jindaiji Temple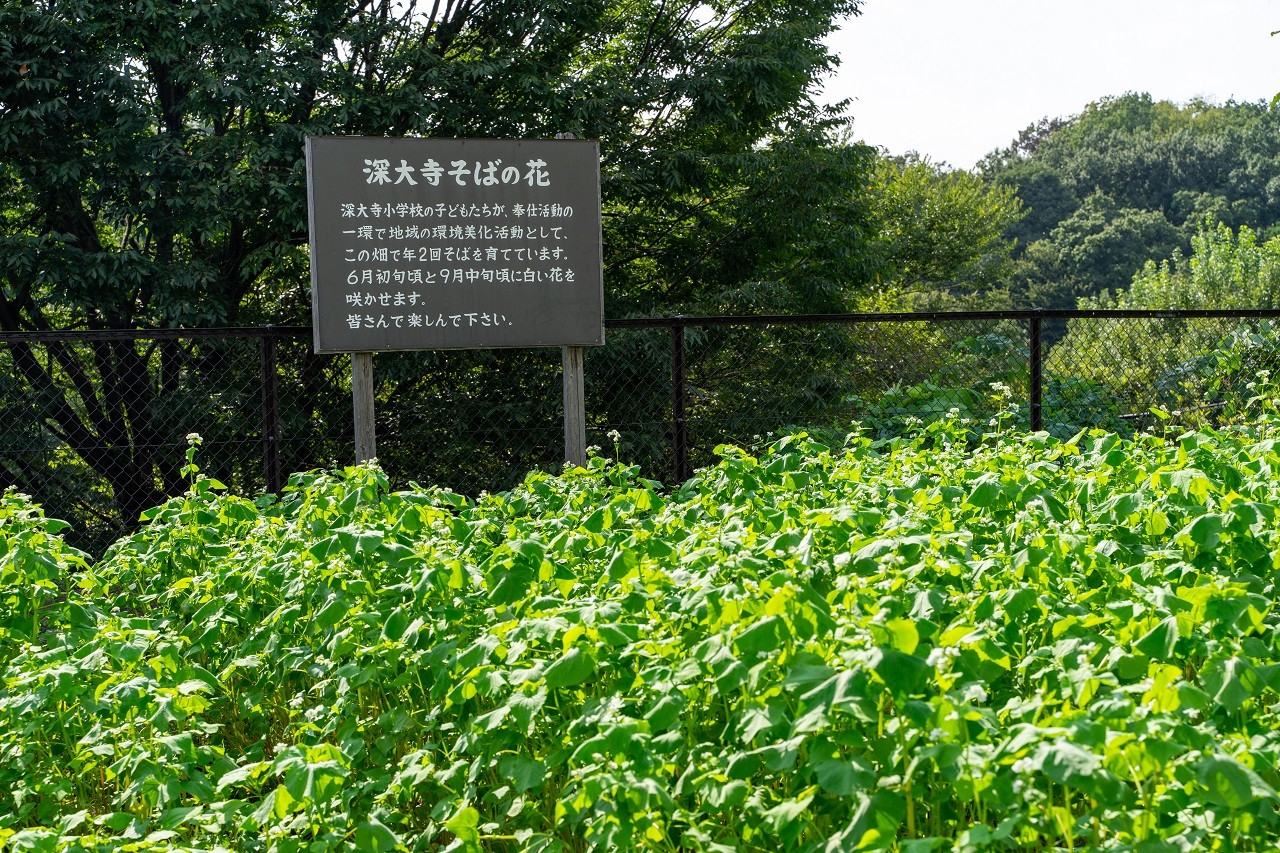 Jindaiji Soba was already introduced as being "extremely delicious" in Shinpen Musashi Fudo Kiko (a topography of Musashi Province from 1804 to 1829).
Jindaiji Soba is believed to have originated when soba noodles made at Jindaiji Temple, using buckwheat flour offered to the temple by nearby farmers, became popular among the temple's visitors.
As to how these noodles subsequently gained fame, there are various theories.
One theory is that the soba noodles were strongly praised and recommended to others by Iemitsu, the third shogun of the Edo administration, who had happened to come to the area on his way to go hawking.
Another theory is that the soba gained fame when it was offered to and praised by a member of the royal family who was a priest at Kaneiji Temple. Soil of the best quality for cultivating buckwheat, and availability of spring water to rinse the soba after it was boiled, made the area around Jindaiji perfect for soba-making.
At the time, Jindaiji Soba was called "kenjo soba" (soba to be offered (to persons of high status etc.)), and it is believed to have been consumed only by the top echelon of society—not by ordinary people. However, sometime between 1804 and 1830, the cultural figure Ota Nanpo tried Jindaiji Soba when he visited Tama River to conduct inspection work as an officer of the Edo government.
As a cultural figure of Edo, he was able to make this excellent soba known in society. Since then, Jindaiji Soba became popular among other people of culture who would take walks in Musashino.
This phenomenon brought Jindaiji Soba to further fame.
Jindaiji Soba Festival
The Jindaiji Soba Festival is held in mid-November each year, when delicious soba is made from newly-harvested buckwheat. The Sobamori Kannon Offering Festival is held during this period, and there is also an event called the "Jindaiji Soba Tour," in which you can visit the soba shops to collect stamps on your stamp-rally ema (a votive horse tablet). Please take advantage of this great opportunity to discover the profound enjoyment of eating Jindaiji Soba.
Sobamori Kannon Offering Festival
The Sobamori Kannon Offering Festival is held every fall. Jindaiji's specialty soba is offered to the Sobamori Kannon ("soba-guardian Kannon"), to pray for bountiful harvest. The Sobamori Kannon is a rare type of Kannon statue, holding a bottle in her right hand and buckwheat grain in her left hand. She is revered as a symbol of Jindaiji Soba.
Soba shops around Jindaiji Temple
Return to Chofu City